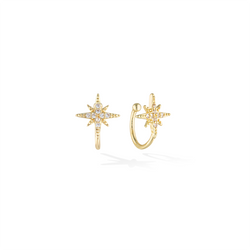 Oasis, where luscious emerald greens and deep blue sapphire lake appears in the middle of sandy dunes. Guided by the true north polaris, we will find the hidden golden treasures in this ethereal shangri-la, awaiting our discovery.
There is an asteroid in the astral plane, flying and cruising in the vast universe, visiting each galaxy freely. Make up of old star seeds matter, this Astral Asteroid Earcuff will add some cosmo touch to your day.

14k yellow gold vermeil.
Crystal stone details.
Sold in a pair.
Shop the entire Odyssey of the Oasis Collection here.

GLACIER MIST offers FREE Standard Domestic Shipping on all orders AUD75 and over — no promotion code needed. For orders under AUD75, there is an additional delivery charge. 

Head over to our FAQ page for more details on shipping and returns.